New Zealand, Sydney, Reef and Rainforest [L43]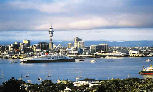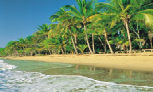 14 Days / 12 Nights New Zealand: Auckland, Rotorua, Queenstown, Christchurch; Australia: Sydney, Port Douglas
Begin your trip in Auckland, New Zealand, where you will marvel at the Waitomo Glow-worm caves and the spectacular geothermal regions of Rotorua. Next travel to the South Island and explore Queenstown and Milford Sound as well as Christchurch
Travel to Australia and visit Sydney. Experience the beauty of the Harbour, the Opera House and marvel at the expansive Sydney Harbour Bridge. You will be walking distance to the Historic Rocks District.
Your final destination is the winning combination of a cosmopolitan township and a friendly village in Port Douglas. It has world class resorts and shopping, award winning restaurants and superb galleries and craft stores. With pristine wilderness, total tranquility, superb golf courses and a wealth of activities including the magnificent underwater world of the Great Barrier Reef, this is a magnetic destination for travelers of all ages and all walks of life.
Travel Package Features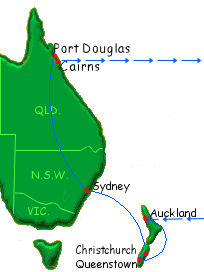 Accommodation - Auckland, New Zealand (1 Night), Rotorua, New Zealand (1 Night), Queenstown, New Zealand (2 Nights), Christchurch, New Zealand (2 Nights), Sydney (3 Nights), Port Douglas (3 Nights)
Shuttle Transfers - Auckland Airport to Accommodation, Rotorua Accommodation to Airport, Queenstown Airport to Accommodation, Christchurch Accommodation to Airport, Sydney Accommodation to Airport (Return), Cairns Airport to Port Douglas Accommodation (Return)
Day Tours - Auckland: Deluxe Coach to Rotorua; Queenstown: Gondola Ride, Doubtful Sound, Deluxe Coach to Christchurch; Christchurch: Trans Alpine Adventure Experience; Sydney: Sydney Opera House Tour, Sydney Harbour Cruise, Blue Mountains and Wildlife Tour; Port Douglas: Great Barrier Reef Cruise, Cape Tribulation Safari
Australian Domestic Flights - Sydney to Cairns
New Zealand Domestic Flights - Rotorua to Queenstown
International Flights - Los Angeles to Auckland, Christchurch to Sydney, Cairns to Los Angeles
All Other Day Tours are Optional and not included
Visa Issuance for entry into Australia (US$15.00 per person)
F.I.T. (Free & Independent Travel, i.e. this is not an Organized Group Tour)
All Taxes and Fuel Levies (Except where noted)
Itinerary is flexible and can be tailored to suit your needs.
Travel Package Detailed Itinerary
(Day 1) - International Flight - Los Angeles to Auckland, New Zealand

Shortly after departing Los Angeles you will be served dinner and you will be given breakfast before landing in Auckland.

Relax, watch some movies, and try to get some sleep!

Please confirm with the airline at check-in that they have all your Frequent Flyer information on record (if applicable).

(Day 2) - Shuttle Transfer Auckland Airport to Accommodation

Travel by shuttle from the Airport to your vacation accommodation in Auckland, New Zealand.

Please note: For airport transfers - 2 suitcases per person, extra pieces may be charged at $5.00 per piece. Surfboards, Bicycles etc - $5.00 each.

(Days 2 to 3) - 1 Night Accommodation in Auckland

Travel to your accommodation in Auckland, New Zealand, where you will be staying whilst on vacation for 1 night.

Auckland is a vibrant and cosmopolitan city, regularly voted one of the best lifestyle cities in the world– renowned as that 'City Of Sails.' Dramatic landscapes and seascapes provide a diverse playground in which a compelling range of attractions are available. Visitors come to enjoy an array of exciting entertainment, leisure, culture and dining possibilities in New Zealand's largest city.


Optional Day Tour (Not Included) - Bay of Islands

Marvel at spectacular coastal scenery including the Hole in the Rock, Cathedral Cave and the inner islands while aboard a luxury catamaran. Also see the historic Waitangi Treaty House and a 'waka' (Maori war canoe).

Travel north over the Auckland Harbour Bridge and enjoy spectacular rural & coastal scenery enroute to the Bay of Islands via Hibiscus Coast and Whangarei. Bay of Islands is one of the most picturesque and popular vacation sites in New Zealand and was the site of the earliest contact between the indigenous population and European settlers. Take a trip into the past and visit such historical places as the Waitangi Treaty House, see a traditional Maori Meeting House and a huge 'waka' (war canoe), Captain Cook Memorial Museum, Flagstaff Hill and the oldest building in the country (Kemp House) along with the oldest Church. In the early afternoon at Cape Brett, board a luxury catamaran for your cruising adventure through game fishing waters as you cruise past the Cape Brett lighthouse to the famous 'Hole in the Rock'. The excitement grows as you make a passage through the Hole and then continue on to the majestic Grand Cathedral Cave. On your return journey relax and enjoy subtropical paradise views with your favourite drink as you meander through the inner islands back to Cape Brett which are world renowned deep sea fishing grounds where porpoise (dolphins) and schools of fish are frequently seen. With the Bay of Islands' combination of great fishing, diving, sailing and other water sports with some of New Zealand's most significant historic sites you will be sure to have fun!

Includes: Pickups from accommodations, admission to Waitangi Treaty House, a Cape Brett cruise and boxed lunch.

Photo Credit: Destination Northland

Optional Day Tour (Not Included) - America's Cup Racing Experience

The America's Cup Sailing Experience offers the unique opportunity to sail on these grand prix racing machines!

<a href="//youtu.be/HJkl03eCs1s" target="_blank"><img src="//abt-aus-images.s3.amazonaws.com/images/Americas-Cup-Sailing-Experience-Auckland-New-Zealand.jpg" width="350" height="197" class="alignleft"></a>

Enjoy two hours as passengers become the crew and are encouraged to take the helm, exert energy on the grinders or simply sit back and enjoy the action as we sail down the Auckland Harbour. The trip suits people of all experiences and abilities and is the perfect activity in Auckland, 'City of Sails'.

WINTER SCHEDULE - APRIL 1ST TO SEPTEMBER 31ST 2014
Departs: 1pm daily

Age Restrictions: Children under the age of 10 yrs not permitted
Weather Restrictions: Sailings subject to weather conditions

Upgrade Available: 3 Hours Match Cup Race (extra cost) - Not Available from April-October.

Insider's Tip - Auckland Explorer Bus

Take a unique, fun and informative tour of Auckland, New Zealand's largest city on the Hop on Hop Off Auckland City Explorer Bus!

Nestled between two harbours, this beautiful and vibrant city has a diverse mix of culture and landscapes. Something for everyone - attractions and activities, shopping and eateries, events and adventure - you can explore it all with Soaring Kiwi Tours!

<b>Unique Vehicles with Fantastic Views:</b> Discover the true magic of city sightseeing onboard our unique, classic and new, double decker buses. With a mix of open and closed top buses, you will ride in comfort and style, enjoying spectacular views from the top deck.

<b>Entertaining 'Live' Commentary:</b> Our friendly local guides provide a 'live' fun and informative commentary throughout your journey. Multi-lingual commentaries are also available on the central tour.

<b>Hop-on, Hop-off and Visit Auckland's Best Attractions:</b> As you circumnavigate the city, visiting historic landmarks and all the 'must see' attractions, you can hop on and off at your leisure to ensure you don't miss a thing.

(Day 3) - Travel by Deluxe Coach from Auckland to Rotorua

Experience New Zealand's rich cultural heritage and the geothermal wonderland of Rotorua, plus a trip through the famous glowworm caves at Waitomo, on this full day sightseeing tour by deluxe luxury coach.

Depart Auckland: Travel the main Southern Highway through small rural townships steeped in early pioneer history. Your host serves morning tea during this sector.

<B>Waikato:</B> Travel through New Zealand's largest dairy and sheep farming province. See the small farming settlements on the outskirts of Hamilton City, as you travel towards King Country, birthplace of the Maori Monarchy.

<B>Waitomo Glow Worm Caves:</B> Join a guided tour through this world-famous cave formation, climaxed by drifting silently in a boat through a glow worm cavern lit up with thousands of tiny glow worm lights.

<B>Light Lunch:</B> Served on-board as we make our way to Rotorua through magnificent rural farmland with its vast numbers of grazing animals.

<B>Rotorua: </B>New Zealand's highest city, 305 meters (1000 feet) above sea level, located inside the rim of a volcanic crater. An area of great geothermal activity where you will visit the following attractions:

<B>Agrodome Farm Tour:</B> An introduction to New Zealand farming, with a 45-minute tour of an authentic working farm in all-weather, all-terrain vehicles. Watch a sheep being shorn and hand-feed the animals.

<B>Lake Rotorua:</B> Drive through the foreshore park past the hundreds of ducks and swans. Then travel through the beautiful historic Government Gardens.

<B>Te Puia Institute (Maori Arts, Crafts & Whakarewarewa Thermal Reserve):</B> One of Rotorua's most famous attractions. See woodcarving, weaving displays, Maori village and the thermal valley with the famous Pohutu Geyser, fumaroles, colourful silica deposits and boiling mud pools.

This tour ends in Rotorua.


(Days 3 to 4) - 1 Night Accommodation in Rotorua

Travel to your accommodation in Rotorua, New Zealand, where you will be staying whilst on vacation for 1 night.

Located on the shores of Lake Rotorua your accommodation is only a short walk to the city centre, convention centre, cafes and restaurants. Here in the heartland of New Zealand's Maori culture you'll experience an enveloping warmth, proud spirit, deep sense of history and a quick humour. Picturesque cobbled and lantern lined streetways and striking Tudor architecture celebrates New Zealand's significant colonial history. Travel the region by mountain bike or participate in local bush walks.

Upgrade Available (extra cost):
Lake View Room

Optional Evening Event (Not Included): Te Po, Indigenous Evening Experience

Te Po is an authentic, one-of-a-kind evening event. It is a feast of storytelling, entertainment and Maori cuisine like no other you'll ever experience.



<a href="//youtu.be/4QmF2iaU2A4" target="_blank"><img src="//abt-aus-images.s3.amazonaws.com/images/Te-Po-Indigenous-Evening-Experience.jpg" width="350" height="197" class="alignleft"></a>

</b>
</b>
</b>
Your evening begins with a visit to the hangi pit to watch the baskets being lifted from their distinctive underground oven in preparation for the evening's traditional feast. Hangi preparation begins in the early afternoon to ensure your meal is cooked to perfection.

</b>
</b>
</b>
A true highlight of any Te Puia outing are the stunning cultural performances featuring traditional storytelling and entertainment. You'll have the opportunity to join in the graceful poi dance or ferocious haka for a more intimate Maori cultural experience.

After a traditional blessing, you will be treated to an entrée of New Zealand mussels, corn on the cob, traditional rewana bread and dips, and a local drink made from kawakawa extract and manuka honey.

The main meal is an event in itself, with the hangi-cooked foods accompanied by flavoured meats, chicken, lamb, vegetables and salads. A range of drinks is available to complement your meal including wine, beer, juices, tea and coffee. We recommend leaving room for dessert, as you will definitely find something to satisfy your sweet tooth.

After dinner you will be invited to board the motorised waka (transporter) for a journey into the valley at night. Enjoy the ride and marvel at the sights before disembarking at Pohutu Geyser for the final stage of a magical evening.

End your unforgettable evening by sitting upon the warmth of the naturally hot rocks armed with a delicious hot chocolate. Listen to your guide tell stories while Pohutu Geyser sits before you, illuminated in its full glory beneath starry skies.

(Day 4) - Shuttle Transfer Rotorua Accommodation to Airport

Travel by shuttle from your vacation accommodation in Rotorua, New Zealand, to Napier.

Please note: For airport transfers - 2 suitcases per person, extra pieces may be charged at $5.00 per piece. Surfboards, Bicycles etc - $5.00 each.

(Day 4 cont) - Australian Domestic Flight - Rotorua to Queenstown

Travel within New Zealand by domestic air from Rotorua to Queenstown (South Island).



(Day 4 cont) - Shuttle Transfer Queenstown Airport to Accommodation

Travel by shuttle from the Airport to your vacation accommodation in Queenstown, New Zealand.

Please note: For airport transfers - 2 suitcases per person, extra pieces may be charged at $5.00 per piece. Surfboards, Bicycles etc - $5.00 each.

(Days 4 to 6) - 2 Nights Accommodation in Queenstown, New Zealand

Travel to your accommodation in Queenstown, New Zealand, where you will be staying whilst on vacation for 2 nights.

Your vacation accommodation is located near the shores of Lake Wakatipu, and only 3 minutes drive from the centre of town. The hotel features rooms most of which have spectacular views over the lake and the remarkable mountain range. Facilities include a range of hotel amenities that invite those who want to relax from their travel. These include an outdoor swimming pool, spa, sauna, gymnasium, restaurant, bar, conference rooms and a ski and boot drying room. A convenient shuttle service to the town centre is also available at own expense. Travel and explore the surroundings by visiting New Zealand's Milford Sound, Central Otago Wineries. For the nature lover, maybe enjoy a nice stroll on walking trails that meander along the lakes shores. In the evening perhaps dine whilst enjoying a Maori Concert and see powerful performances of The Haka and other songs of New Zealand custom.

Upgrade Available (extra cost):
Lake View Room

(Day 4) - Day Tour - Gondola Ride over Beautiful Queenstown

One of the first sights to captivate visitors to Queenstown is the distinctive outline of the Skyline complex high above town.


<a href="//youtu.be/1iQPRGL4SfM" target="_blank"><img src="//abt-aus-images.s3.amazonaws.com/images/Skyline-Gondola-Queenstown.jpg" width="350" height="197" class="alignleft"></a>


Located an easy 5 minute walk from central Queenstown and exclusively accessed by scenic gondola, Skyline Gondola, Restaurant & Luge is a must-see attraction during your visit to Queenstown, New Zealand. The best views in the region are found here spread out in a spectacular 220 degree panorama, with breathtaking views of Coronet Peak, The Remarkable mountain range and across Lake Wakatipu to Cecil and Walter Peaks. It's truly magnificent and awe-inspiring!

Of course there's more to do than just admire the view! For an additional cost you can:
<ul><li>Enjoy a dinner or relax in the bar in the Skyline Restaurant. Casual dining is also available during the day in the Cafe. </li>
<li>Thrill seekers can hurtle down the winding downhill Skyline Luge. Purpose built Luge carts put you in complete control as you take on a half-mile of banked corners, tunnels and dippers. Once you've conquered the course, hop on the chairlift and do it all again, and again, and again. Gentle and leisurely or steep and adventurous, you'll be hooked.</li>
<li>Explore the southern night sky of Queenstown with a guided tour of the galaxy and learn about the stars, nebulae and planets that make up our solar system and beyond. </li></ul>

Ask your Destination Specialist about available combo packages to make your day at Skyline more enjoyable.

Various walking tracks can also be accessed from Skyline, from an easy 30 minute walk to a full day hike.

(Day 5) - Day Tour - Doubtful Sound

When you discover Doubtful Sound you will be struck by its silence, a silence broken only by birdsong, or maybe the rushing of a distant waterfall.

The beauty and isolation of Doubtful Sound are so compelling that it's difficult to believe you were in civilisation just a few hours earlier.

A day excursion into this pristine fiord begins with a cruise across beautiful Lake Manapouri to West Arm. You will then board a coach and travel the sub-alpine road over Wilmot Pass, pausing along the way to experience the dense Fiordland rainforest and view Doubtful Sound glistening far below.

On arrival in Doubtful Sound, board our spacious catamaran Patea Explorer for a three-hour cruise through some of the fiord's most stunning scenery. Throughout the cruise, a specialist nature guide provides commentary, answers questions and points out highlights.
Wildlife sightings are common in Doubtful Sound. Fur seals bask on rocky outcrops and the fiord's resident pod of bottlenose dolphins are often seen roving through the deep, dark waters.
A day excursion to Doubtful Sound also includes a visit to one of New Zealand's major sources of sustainable hydro-power - the Manapouri Underground Power Station.


*A picnic lunch can be pre-ordered before your tour for an additional cost. There is also a selection of cafe food aboard the vessel for purchase.

(Day 6) - Travel by Deluxe Coach from Queenstown to Christchurch

Visit Mount Cook National Park and experience the beauty of this Alpine area dominated by Australasia's highest peak before continuing on to Christchurch.

Your coach tour begins in Queenstown and ends in Christchurch

Depart Queenstown which sits on the shores of beautiful lake Wakatipu.

On your arrival to Mount Cook you'll have lunch at a village cafe (own arrangements), or explore the walks in and around the village (1 hour approximate).

At Lake Tekapo your have a spectacular sight on clear days of the Southern Alps at the far end of the lake.

Full Day Tour
Fare includes: Selected Hotel/Motel pickups, coach and tax.

Photo Credit: Tourism New Zealand

(Days 6 to 8) - 2 Nights Accommodation in Christchurch, New Zealand

Travel to your accommodation in Christchurch, New Zealand, where you will be staying whilst on vacation for 2 nights.

Your 4 Star vacation accommodation in Christchurch, located on New Zealand's South Island, offers a stylish boutique hotel, just metres from Cathedral Square, major business houses, convention facilities and prime attractions. The city, also known as the "Garden City" offers many opportunities to either rest from your travel or explore the city. Consider traveling to Arthur's Pass National Park, which has an incredible diversity of flora and landscape. Experience a breathtaking journey aboard the TranzAlpine Train winding its way through New Zealand's magnificent Waimakariri Gorge.

(Day 7) - Day Tour - Tranz Alpine Safari Experience - Full Day

See the spectacular mountain vistas of Arthur's Pass National Park and immerse yourself in New Zealand's high country scenery on this journey through the South Island. You'll discover breathtaking mountain landscapes and alpine forests on personal, up close encounters most people never get to witness.

Your day begins with a hotel pick up to the train station for boarding on the famous TranzAlpine train, rated one of the top six train journeys in the world. This scenic rail experience takes you westward across the rich agricultural belt of the Canterbury Plains, river canyons, tunnels and viaducts to the grand mountains of the Southern Alps and Arthur's Pass.

At Arthur's Pass village you will meet your guide, a friendly and professional tour leader who will give you profound insight into each stop of the day. You will have the opportunity to:

- View the pristine Waimakariri River and its unique braided river system
- Explore the alpine forest, crystal rivers and mountain vistas on short walks through Arthur's Pass National Park
- Enjoy lunch at a historic high country hotel
- Follow the old stage coach route and view the spectacular Otira Gorge, a testament to the road builders of the 1860's and the route taken by the Maori in their quest for greenstone
- Visit Cave Stream, where underground limestone cliffs, gorges and craggy outcrops await to be discovered. This area was also used for the filming of C.S. Lewis's – "The Lion, Witch and the Wardrobe"
- Visit the incredible Castle Hill rocks, unique rock formations and sacred landmarks to the Maori

Your journey ends with a deluxe mini van trip back to Christchurch, traveling via sub-alpine Porter's Pass and the Canterbury Plains.

(Day 8) - Shuttle Transfer Christchurch Accommodation to Airport

Travel by shuttle from your vacation accommodation in Christchurch, New Zealand, to the Airport.

Please note: For airport transfers - 2 suitcases per person, extra pieces may be charged at $5.00 per piece. Surfboards, Bicycles etc - $5.00 each.

(Day 8 cont) - Shuttle Transfer Sydney Airport to Accommodation

Travel by shuttle transfer from the Airport to your vacation accommodation in Sydney, Australia.



(Day 8 cont) - International Flight - Christchurch, New Zealand to Sydney, Australia

After departing from Christchurch, this short International Flight takes you overseas to Sydney, Australia.



(Days 8 to 11) - 3 Nights Accommodation in Sydney

Travel to your accommodation in Sydney, Australia, where you will be staying whilst on vacation for 3 nights in your studio room apartment.

Just 30 minutes from Sydney Airport, your accommodation is conveniently located between Darling Harbour and the Sydney CBD.

The friendly staff at your accommodation can attend to your every need with 24 hour guest reception. Enjoy a scrumptious breakfast at their signature restaurant.

Relax in a stylish and comfortable haven whilst being in close proximity to shopping at Westfield's Pitt St Mall and Darling Harbour. Don't forget to take a stroll down Pitt St towards Circular Quay to take in more of Sydney's world famous sites- like the Sydney Opera House and Sydney Harbour Bridge.

(Day 9) - Day Tour - Sydney Harbour Cruise and Tour (1 Hr)

On your vacation explore Darling Harbour in Sydney, Australia.

<iframe width="350" height="197" class="alignleft" src="//www.youtube.com/embed/Amtpkm4_zKY" frameborder="0" allowfullscreen></iframe>

Hop On and Hop Off at up to seven famous harbour attractions with this unlimited full day pass, or simply take the 1 1/2 hour round trip cruise and see all the main harbour sights with commentary.

The Harbour Express stops at the following tourist attractions:

Fort Denison: The historic island and cafe in the middle of Sydney Harbour.

Taronga Zoo: Discover Australia's amazing wildlife including koalas, platypus and kangaroos.
Shark Island: This island national park is the perfect destination for a BYO picnic lunch, complete with a small beach area for swimming.

Watson's Bay: Home of Doyle's famous seafood restaurant and only a short walk to beautiful harbour swimming beaches, HMAS Watson and headland parks.

Luna Park: Sydney's famous fun park with rides and games, or walk across the Harbour Bridge from Milsons Point station.

Darling Harbour: Aquarium & Wildlife World, Australian Maritime Museum, shops, restaurants and only a short stroll or Monorail to Sydney Tower, Star City Casino, Powerhouse Museum and China Town.

Circular Quay: The Rocks historic precinct, weekend markets, Opera House, Royal Botanic Gardens and Harbour Bridge pylon. (Additional Fees apply for Park Entry to Fort Denison, Shark Island & Taronga Zoo).

(Day 9) - Day Tour - Sydney Opera House Tour (1 Hr)

On your vacation, participate in an inspiring tour of the Sydney Opera House.

<a href="//youtu.be/C2UPo8f7EpE" target="_blank"><img src="//abt-aus-images.s3.amazonaws.com/images/Sydney-Opera-House-Tour-Australia.jpg" width="350" height="197" class="alignleft"></a>

</b>
This one hour tour outlines the intricate and controversial history of the Sydney Opera House along with details of the unique design of this architectural masterpiece. You will visit a number of the six performance venues, including the magnificent wood paneled Concert Hall and the Opera Theatre as well as the new Utzon room. You will also visit the glass enclosed northern foyer areas which boast spectacular views of Sydney Harbour - a perfect photo opportunity.

</b>
Upgrade to Opera House Tour & Tasting Plate Available

Insider's Tip - Sydney Explorer Bus

Experience all the excitement of Sydney, Australia's famous harbour city, and the capital of NSW with the Big Bus Sydney and Bondi Explorer - Sydney's only Hop-On Hop-Off tourist bus service.

<a href="//youtu.be/EIXTcnvZL40" target="_blank"><img src="//abt-aus-images.s3.amazonaws.com/images/Sydney-Explorer-Hop-On-Hop-Off-Sightseeing-Bus.jpg" width="350" height="197" class="alignleft"></a>

The Sydney and Bondi Tours are included with this pass. The Sydney tour features 23 stops and the Bondi tour features 11 stops.

As well as Sydney's glorious harbour and stunning beaches the city offers a multi cultural lifestyle, exuberant festivals and events, a dynamic food scene and a striking cityscape of modern and colonial architecture.

Don't miss a thing aboard this open-top double-decker bus tours with 34 stops in Sydney and Bondi Beach. Plan your own itinerary and visit the landmarks and attractions at your own pace. Buses run frequently so rejoining the tour is easy! Plus, you'll receive a booklet with travel information, detailed maps, discount vouchers and much more!

Be sure to bring your camera to capture all the excitement!

<b>Operates</b>
Daily

<b>Times</b>
- <b>Sydney Tour:</b> 1hr 45min end to end with 23 featured stops
First tour departs Circular Quay at 8:30am. Frequency every 20-30 mins
- <b>Bondi Tour:</b> 1hr 30min end to end with 11 featured stops
First tour departs 9:30am. Frequency every 30 minutes

All services terminate at 7:30pm in peak season (Oct - April) and 6:30pm in off peak season (May - Sept).

<b>Need to Know</b>
- Frequency and tour times very according to season and traffic. Please check with the bud driver on your day to travel to confirm pick up and drop off times.

<b>Inclusions</b>
- 1-Day Hop-on-Hop Off Bus Pass for Sydney Route and Bondi Route with 34 stops including: Circular Quay, Sydney Opera House, Kings Cross, Hyde Park, Maritime Museum, SeaLife Sydney Aquarium, Barangaroo, The Rocks, Australia Museum, Bondi Beach, Rose Bay & More!

<b>Upgrades</b>
Upgrade to a 2-Day Pass and receive a complimentary walking tour of Sydney's laneways, bars, cafes and galleries.

Insider's Tip - Opal Shopping

Altmann & Cherny is a family owned jewellery business in Sydney with an international reputation for excellence in opals and is one of the World's foremost Australian Opal authorities.

Australia is known as the country of origin for this splendid stone with 95% of the world's precious gem opal found exclusively in Australia. The Australian opal displays all the colors of the rainbow; holding a spectrum of colors found in nature. It is these contrasts that make opals a truly fascinating and unique gemstone, with no two opals appearing exactly the same. In the Middle Ages the Romans considered opal a stone that could provide great luck, as it was believed to possess all the virtues of Emeralds, Sapphires and Rubies.

Established in 1948 in hopes of sharing this unique gemstone with the world, they have built a reputation of providing the highest level of quality, service and value for three generations. Their mantra has always been and will continue to be - "Excellence in service, quality and value." So come share in this unique experience to learn more about Australian Opals at Altmann & Cherny!



<u>Altman + Cherny</u>
18 Pitt St., Sydney, NSW 2000 / Ph: 61 (02) 9251 9477

Hours: Monday - Friday: 9:30am - 5:30pm / Saturday & Sunday 10:00am - 4:00pm


(Day 11) - Shuttle Transfer Accommodation to Sydney Airport

Travel by shuttle from your vacation accommodation in Sydney, Australia, to the Airport.



(Day 11 cont) - Australian Domestic Flight - Sydney to Cairns

Travel within Australia by domestic air from Sydney to the gateway of the Great Barrier Reef, Cairns.



(Day 11 cont) - Shuttle Transfer Cairns Airport to Port Douglas Accommodation

Travel by shuttle from the Cairns Airport to your vacation accommodation in Port Douglas, Australia.

Luggage restrictions apply as per standard economy Australian domestic flights of 2 standard bags under 30kg (66 lbs) per passenger. If traveling with excess baggage please advise us immediately so appropriate trailer size is available.

Departures occur approximately 30 minutes after aircraft arrival-time for domestic flights. For international flights, this will be considerably longer because of customs and other formalities.

(Days 11 to 14) - 3 Nights Accommodation in Port Douglas

Travel to your accommodation in Port Douglas, Australia, where you will be staying whilst on vacation for 3 nights.

Your vacation luxury boutique accommodation is located within walking distance of the three icons of Port Douglas - 200 metres from 4-Mile Beach, 100 metres from Macrossan Street and 400 metres to the Marina Village, where boats depart daily to Australia's Outer Great Barrier Reef. The apartments are equipped with air conditioning, ceiling fans, cable TV, CD & DVD players, microwave, fridge, dishwasher, laundry facilities and security basement car parking. Free Wi-Fi available. There is a Lagoon style pool, an outdoor BBQ/ entertaining area, and an 8 person spa amongst a luscious tropical garden. Travel to the Daintree Rainforest and Cape Tribulation or maybe to the Great Barrier Reef. Port Douglas offers a winning combination of a cosmopolitan township and friendly village. You can relax from your travel or shop, dine in award winning restaurants and visit superb galleries and craft stores. (Children under age 15 are not catered for at this property. Other properties available upon request.)

Included Meals: Breakfast selection on arrival including fresh fruit, yoghurts, juice, cereals, toast and spreads (sufficient to provide daily breakfasts for 3 days)

*Optional upgrade to 5 Star Accommodation is available. Pricing upon request

(Day 12) - Day Tour - Great Barrier Reef Cruise

Travel from Port Douglas to Australia's Great Barrier Reef for a day of fun reef experiences! Perfect for swimmers, snorkelers, divers and non-swimmers alike!

<a href="//youtu.be/90n1cGc_q9o" target="_blank"><img src="//abt-aus-images.s3.amazonaws.com/images/Great-Barrier-Reef-Cruise-Glass-Bottom-Boat.jpg" width="350" height="197" class="alignleft"></a>

Cruise by luxury catamaran to reef activity platforms moored at Agincourt Reef, a magnificent ribbon reef on the outer edge of the Great Barrier Reef.

Here, special reefs known as 'ribbons' run parallel to the Continental Shelf. Adjacent to the Coral Sea trench, these ribbon reefs are recognized as the most pristine eco-systems in the reef's environment. Clear water provides the best possible underwater visibility, encourages rich coral growth and supports spectacular marine life.

Entering the dramatic beauty of the Great Barrier Reef is an extraordinary experience. It's a day that engages all your senses, lifts your spirit and takes you into another realm. Sharing the wonder of the world's largest living entity, realizing its breathtaking color and majesty, seeing nature at its most perfect is an awakening and, quite simply, the memory of a lifetime.

<b>Choose how you experience the reef:</b> Visit the underwater observatory; View coral in the semi-submersible; Enjoy a talk by a marine biologist; Snorkel

<b>Upgrade your experience: </b> Certified Scuba Diving (1 or 2 40-minute dives); Introductory Dive; Ocean Walker Helmet Diving (great for non-swimmers); 10 minute Scenic Flight; Introductory or Advanced Adventure Snorkel Tour

<b>Operates: </b> Daily; Approximately 9:15am - 4:30pm

<b>Includes: </b> Morning and afternoon teas on board. Reef presentation by marine biologist. Hot and cold tropical smorgasbord lunch. All snorkeling equipment provided. Stinger/Lycra Suits & Buoyancy Aids provided. Return Wavepiercer cruise from Port Douglas. Qualified lifeguard supervision. Underwater observatory fish & coral viewing. Coral viewing by semi-submersible vessels. Fish feeding [conducted by crew]

<b>Need to Know: </b> Please bring with you: towel (available from your hotel room), a change of clothes, hat, sunscreen & underwater disposable camera (optional). Camera's available from any local chemist or convenience store.
Due to fluctuation in world oil prices, it may be necessary to apply a fuel surcharge to your ticket price. In such cases, any charge will be collected upon departure. Please verify before your tour.

Optional Upgrade (Pricing Available On Request) - Great Barrier Reef Helicopter Flight

Travel to the Outer Reef Platform via Helicopter and return on the Great Barrier Reef Boat.

Traveling to the Outer Reef Platform, experience a scenic Helicopter flight over the lush, tropical Daintree Rainforest, flying over pure white sand cays and viewing the amazing kaleidoscope of colours which make the Great Barrier Reef.

Flying low over the reef, your pilot will show you the wonders beneath the sea. Landing at the Agincourt Reef, on the very edge of the Great Barrier Reef, join the vessel and floating platform for a day of activities. Your Great Barrier Reef Cruise Boat has facilities for both swimmers and non-swimmers to enjoy the stunning reef. Explore the reef snorkeling or explore it from a semi submersible or from the under water observatory. Relax as you return to Port Douglas aboard the catamaran as you reflect on the magnificence of nature's finest.

(Day 13) - Day Tour - Cape Tribulation Safari

Enjoy a day exploring the rainforest and amazing landscapes of the Cape Tribulation wilderness area with a visit to Mossman Gorge Center and Cape Tribulation.

<a href="//youtu.be/e7xNha9KCS8" target="_blank"><img src="//abt-aus-images.s3.amazonaws.com/images/Cape-Tribulation-&-Daintree-Wilderness-Safari.jpg" width="350" height="197" class="alignleft"></a>
</b>
<b>Mossman Gorge Centre: </b> Visit the Mossman Gorge Gateway Centre for morning tea before boarding your shuttle for the transfer into Mossman Gorge. Your driver/guide will take you for a guided walk, sharing their knowledge of this enchanting rainforest environment. Learn about the fascinating secrets of one of the world's oldest tropical rainforests.

</b>
</b>
<b>Daintree River Cruise: </b> Reach an understanding of this wildlife environment for one hour, habitat of birds, tree snakes, unique plants and of course the estuarine crocodile.

<b>Tropical Lunch: </b> With special access at a private rainforest property, enjoy a short walk along a delightful rainforest creek before a delicious tropical lunch. Choice of quality steak, fish or vegetarian meal with fresh salads and fruit platter, followed by coffee or Daintree Tea.

<b>Cape Tribulation: </b> Walk on this world-renowned rainforest beach and admire the coastline and fringing coral reef from the Kulki Lookout.

<b>Daintree Ice Cream Company: </b> Enjoy an afternoon refreshment at the Daintree Ice Cream Company. Included is a delicious cup of exotic fruit ice cream, made from fruit grown on their on-site orchard. Gluten / Dairy free options are available.

<b>Alexandra Lookout: </b> After winding through the rainforest of the Alexandra Range, enjoy this spectacular lookout over the Daintree River estuary, Snapper Island and beyond to the Coral Sea.

<b>Operates: </b> Daily (Does not operate on Christmas Day); Departs Port Douglas 7:45am & Returns 6:00pm (approximate times)

<b>Includes: </b> Return Hotel Transfers; Professional driver/guide; Mossman Gorge Centre with Morning Tea, Driver Guided Walk in Mossman Gorge; Daintree River Cruise; Lunch at Noah Valley in rainforest setting, Cape Tribulation Beach & boardwalk; Daintree Ice Cream Company; Alexandra Lookout

<b>Need to Know: </b> Tour not recommended for children under 4yrs due to the length of the tour & time spent in the vehicle.

Optional Day Tour (Not Included) - ATV Quad bike tour in the Kuranda, Half day

The half day ATV Quad Bike adventure travels through tropical rainforest & creek beds, encountering spectacular unspoilt mountaintop views, and purpose built obstacles, mud pits, and motocross track on 5 acres to itself.

Half day tours operate twice daily with sessions at 9:00am and 1:30pm. Actual riding time is 2hrs and includes a pre-tour riding lesson, and safety briefing. Riders will be given plenty of practice time on the training track, and guides will asses riders to determine the trails to venture on.

The ATV Quad bikes on the fleet are Polaris 300cc, and there are also some Yamaha 90cc bikes for the kids and small adults. All bikes are fully automatic, requiring no use of a foot or hand clutch, and adopting a single hand braking method for all 4 wheels making these bikes extremely safe and fun to ride for anyone. Comfortability is also well considered with the fleet of bikes having independent quad suspension, and being shaft driven for that additional sustainability of trekking up hills and through the mud.

All riding abilities, and children ages 12yrs and up are welcome to participate. Group sizes are small and personalised with a maximum of 8 riders per group and all experience levels catered for.

Freshly made morning & afternoon tea. Refreshments are served following your tour.

Optional Day Tour (Not Included) - Sail Away to the Low Isles

Enjoy a day to remember with a sail out to the protected Low Isles, an unspoiled coral cay in the Great Barrier Reef on this high-end small group tour.

<a href="//youtu.be/O_5UqT34BMc" target="_blank"><img src="//abt-aus-images.s3.amazonaws.com/images/Sail-Away-Low-Isles-Great-Barrier-Reef.jpg" width="350" height="197" class="alignleft"></a>

Set sail to the Great Barrier Reef on a 5-star Luxury Lagoon 500 Catamaran, Sailaway. Your destination, a protected island situated on a large coral platform consisting of a small coral cay, a large mangrove island, mudflats, seagrass beds, and coral reefs. Surrounded by 55 acres of coral reef, comprised of 150 species of hard corals and dominated by 15 species of soft corals, this is an ideal place for snorkeling.

Living in the blue lagoon are a large variety of reef fish including angelfish, damselfish, anemones, giant trevally, sweetlip, fusiliers and many green turtles are sighted daily. Be sure not to miss out on the Heritage Walk where you can learn about the islands history and environment and visit the lighthouse built in 1878. There are also a number of bird species including pelicans, honeyeaters, white breasted wood swallows, mangrove kingfishers, reef egrets with sea eagles and ospreys wheeling overhead.

<b>Operates Daily</b>: 7:30am - 4:30pm

<b>Highlights & Inclusions</b> Courtesy coach transfers in Port Douglas area; Upon boarding, enjoy morning tea and coffee along with muffins and pastries all made with local produce; Afternoon tea and coffee, additional cut fresh fruit platter and home-made cakes; Superb tropical buffet lunch (including prawns); Snorkeling equipment, optical masks, seasonal Lycra snorkeling suits, wet suits & flotation devices; Snorkeling instruction and in-water assistance; Guided snorkel tour with a marine guide; Glass bottom boat viewing and reef interpretation; Eco Shamba Environmental Initiative $20 local forestation; Low Isles Heritage Walk; 4.5 hours at Tropical Low Isles; The experience of sailing on board the luxury sailing catamaran Sailaway VI.

Insider's Tip - Rainforest Habitat

Visit four environments and experience a cacophony of wildlife all at once at the Wildlife Habitat Animal Sanctuary located at the entrance of Port Douglas.

<a href="//youtu.be/ksevPDhCuwk" target="_blank"><img src="//abt-aus-images.s3.amazonaws.com/images/Wildlife-Habitat-Port-Douglas-Australia.jpg" width="350" height="197" class="alignleft"></a>

Situated on eight acres of land, the park recreates four very unique environments that allow you to see various and numerous species through meandering boardwalks.

Enter through the Savannah, a new habitat offering an opportunity to wander amongst the beautifully rich colored birds of northern Australian open woodland. Check out the Wetlands where you can view wading birds as they forage for fish beneath the boardwalks, along with marsupials, fruit bats and other bird species.

Come hungry and have the original "Breakfast with the Birds" (extra cost) which will tempt you with Hot/Cold Buffet, juices, exotic tropical fruit selection and bottomless tea and coffee. Watch the clock and make sure to be on time for the Koala Photos (extra cost).

Stop off at the Presentation Hut where you can meet up close with various reptiles, including pythons and crocodiles (check times). If you get hungry stop off at the Cafe where meals and snacks are available or have "Lunch with the Lorikeets" (extra cost).

View the native species of the Wet Tropics at the Rainforest with such animals as the endangered Southern Cassowary, Boyd's Forest Dragon and colorful Eclectus parrots. Interact and hand feed Queensland's largest range of kangaroos and wallabies at the Grasslands. Double check the lagoons where the crocodiles are lurking beneath the murky waters or basking on the sunlit banks.

Don't forget to check out the gift shop, ask about the free guided tours or inquire about 3 day entry passes. Wildlife Care Behind the Scenes Tour is at 1:30pm. (Extra Cost)

<b><u>Daily Tour Schedule:</b></u>
9:00am Breakfast with the Birds Interactive Experience
9:15am Feature Creature photos
9:30am Rainforest & Cassowary Feeding Tour
10:10am Wetlands Feeding Tour
10:45am Koala Presentation/ Koala Souvenir Photos
11:15am Savannah & Lumholtz Tree Kangaroo Tour
11:45am North Queensland Reptile Experience
12:30pm Lunch with the Lorikeets Interactive Experience
1:00pm Feature Creature photos
1:30pm Rainforest & Turtle Feeding Tour
2:10pm Wetlands Feeding Tour
2:40pm Koala Feeding
3:00pm Reptile Interaction
3:30pm Feature Creature photos
4:00pm Savannah & Pelican Feeding Tour

Kangaroo food can be purchased for $2.00 per bag (own expense) at the Wildlife Habitat.

<b>Operates</b>

Daily. Closed on Christmas Day (December 15).

<b>Need to Know</b>

Child pricing and family rates are available on request.

<b>Times</b>

Opening hours are from 8:00am to 5:00pm.

<b>Inclusions</b>

- Entry into Port Douglas Wildlife Habitat
- Animal presentations
- Re-entry for the next four days


(Day 14) - Shuttle Transfer Port Douglas Accommodation to Cairns Airport

Travel by shuttle from your Port Douglas vacation accommodation to the Airport in Cairns, Australia.

Luggage restrictions apply as per standard economy Australian domestic flights of 2 standard bags under 30kg (66 lbs) per passenger. If traveling with excess baggage please advise the shuttle company upon reservation confirmation so appropriate trailer size is available.

(Day 14 cont) - International Flight - Cairns to Los Angeles via connection

This morning depart Cairns and fly back to the USA via either Brisbane or Sydney. Note: You will be traveling back across the International Date line so you will gain a day. You actually arrive in the USA on the same day you leave Australia.

Your flight home will give you the opportunity to reflect on your Australian vacation. Please tell your friends if you have enjoyed the experience and direct them to "ABOUT AUSTRALIA " for information via our website at www.aboutaustralia.com
Print | More Information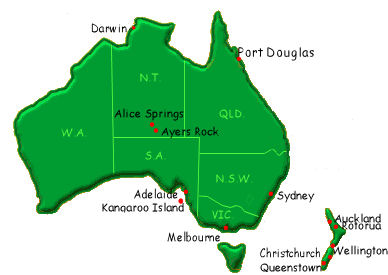 Click the following link to request a booking. Upon receipt of your request we'll prepare a Firm Quote for your travel dates:
[
Request a Firm Quote
]