New Zealand and Fiji [NZ14]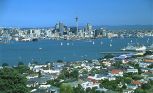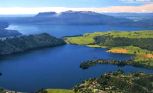 17 Days / 15 Nights
New Zealand: Auckland, Rotorua, Wellington, Christchurch, Queenstown; Fiji: Nadi
Arrive in Auckland, and enjoy its blends of landscape, Polynesian culture, glistening harbours and modern city environment creates an unbelievable lifestyle ranked amongst the best in the world. Not only is Auckland close to the beaches but it is also close to over twelve different Islands. There are 48 volcanic cones and more than 50 islands in the Auckland region. It is the largest city in New Zealand claiming one third of the entire population of the country.
Next is Rotorua, an exciting city with a vast history, tradition and culture. It is surrounded by volcanoes, lakes, parks and is a great place to go hiking or to view native birds and animals. The surrounding areas are a geothermal wonderland, with geysers, boiling mud pools, and steaming craters. Rotorua is also a showcase of Maori cultural activities and a place of exceptional natural beauty.
Then to Christchurch is just like the rest of New Zealand a city of contrasts. It is a place where its residents continue to enjoy a healthy, active lifestyle amidst a natural environment world-renowned for its beauty. A growing cosmopolitan ambience also adds a touch of excitement without overt flashiness. Everywhere there is an understated elegance that speaks of times gone by and promises a future where anything is possible.
Travel to Queenstown, is known as the Adventure Capital of the World. A reputation earned through the actions of a number of locally residing thrill seekers who have developed several unbelievable, adrenalin stirring, sanity-reducing adventures in a wildly exciting environment. Queenstown has, over the years, quietly expanded into all sorts of attractions, including new wineries, art galleries, arts trails and challenging golf courses.
Arrive in Nadi, Fuji, where you are welcomed with shell necklaces and traditional live Fijian music. The countryside is rolling and verdant, the beaches are relatively unpopulated, and the mountainous region (known as the Nausori Highlands) to the east is nothing short of spectacular.
Travel Package Features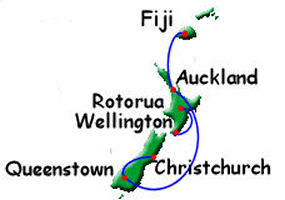 Accommodation - Auckland (2 Nights), Rotorua (1 Night), Wellington (2 Nights), Christchurch (2 Nights), Queenstown (3 Nights), Nadi (4 Nights)
International Flights - Los Angeles to Auckland, Auckland to Nadi, Nadi to Los Angeles
New Zealand Domestic Flights - Rotorua to Wellington, Christchurch to Queenstown, Queenstown to Auckland
Day Tours - Auckland: Bay of Islands and Deluxe Coach from Auckland to Rotorua; Wellington: Interislander Ship, Tranzcoastal Train; Christchurch: Alpine Safari; Queenstown: Gondola Ride, Doubtful Sound
Shuttle Transfers - Airport to Auckland Accommodation (return), Rotorua Accommodation to Airport, Christchurch Accommodation to Airport, Airport to Wellington Accommodation, Queenstown Airport to Accommodation (return), Airport to Fiji Accommodation (return)
Taxi - Taxi from Rail Station to Christchurch Accommodation (own expense)
All Other Day Tours are Optional and Not Included
F.I.T. (Free & Independent Travel, i.e. this is not an Organized Group Tour)
All Taxes and Fuel Levies (Except where noted)
Itinerary is flexible and can be tailored to suit your needs.
Travel Package Detailed Itinerary
Day 1 - International Flight - Los Angeles to Auckland

Travel to New Zealand on your Vacation. After departing from Los Angeles you will be provided with an evening meal. You can relax, have a drink, watch a movie, review your itinerary or just rest. You will be given breakfast before landing in Auckland, New Zealand (you lose one day crossing the International Date Line but don't worry you'll catch it up again on your return flight to the USA)

Your international flight is equipped with the latest entertainment features of any Airline. The overnight flight to New Zealand can be a good opportunity for sleeping or to watch the latest movies after your evening meal.

Please confirm with the airlines at Check-in that they have all your Frequent Flyer information on record.

Day 2 - Shuttle Transfer from Airport to Auckland Accommodation

Travel by shuttle from the Airport to your vacation accommodation in Auckland, New Zealand.

Please note: For airport transfers - 2 suitcases per person, extra pieces may be charged at $5.00 per piece. Surfboards, Bicycles etc - $5.00 each.

Days 2 to 4 - 2 Nights Accommodation in Auckland

Travel to your accommodation in Auckland, New Zealand, where you will be staying whilst on vacation for 2 nights.

Auckland is a vibrant and cosmopolitan city, regularly voted one of the best lifestyle cities in the world– renowned as that 'City Of Sails.' Dramatic landscapes and seascapes provide a diverse playground in which a compelling range of attractions are available. Visitors come to enjoy an array of exciting entertainment, leisure, culture and dining possibilities in New Zealand's largest city.


Day 3 - Day Tour - Bay of Islands

Marvel at spectacular coastal scenery including the Hole in the Rock, Cathedral Cave and the inner islands while aboard a luxury catamaran. Also see the historic Waitangi Treaty House and a 'waka' (Maori war canoe).

Travel north over the Auckland Harbour Bridge and enjoy spectacular rural & coastal scenery enroute to the Bay of Islands via Hibiscus Coast and Whangarei. Bay of Islands is one of the most picturesque and popular vacation sites in New Zealand and was the site of the earliest contact between the indigenous population and European settlers. Take a trip into the past and visit such historical places as the Waitangi Treaty House, see a traditional Maori Meeting House and a huge 'waka' (war canoe), Captain Cook Memorial Museum, Flagstaff Hill and the oldest building in the country (Kemp House) along with the oldest Church. In the early afternoon at Cape Brett, board a luxury catamaran for your cruising adventure through game fishing waters as you cruise past the Cape Brett lighthouse to the famous 'Hole in the Rock'. The excitement grows as you make a passage through the Hole and then continue on to the majestic Grand Cathedral Cave. On your return journey relax and enjoy subtropical paradise views with your favourite drink as you meander through the inner islands back to Cape Brett which are world renowned deep sea fishing grounds where porpoise (dolphins) and schools of fish are frequently seen. With the Bay of Islands' combination of great fishing, diving, sailing and other water sports with some of New Zealand's most significant historic sites you will be sure to have fun!

Includes: Pickups from accommodations, admission to Waitangi Treaty House, a Cape Brett cruise and boxed lunch.

Photo Credit: Destination Northland


Day 4 - Deluxe Coach to Rotoura

On your vacation travel by deluxe luxury coach to the Waitomo Glow-Worm Caves and the spectacular geothermal regions of Rotorua, New Zealand.

DEPART AUCKLAND: Travel the main Southern Highway through small rural townships steeped in early pioneer history. Your host serves morning tea during this sector.

WAIKATO: Travel through New Zealand's largest dairy and sheep farming province. Travel the outskirts of Hamilton City via the small farming settlements towards the King Country, birthplace of the Maori Monarchy.

WAITOMO GLOW WORM CAVES: Join a guided tour through this world-famous cave formation, climaxed by drifting silently in a boat through a glow worm cavern lit up with thousands of tiny glow worm lights.

LIGHT LUNCH: Served on-board as we make our way to Rotorua through magnificent rural farmland with its vast numbers of grazing animals.

ROTORUA: New Zealand's highest city, 305 meters (1000 feet) above sea level, located inside the rim of a volcanic crater. An area of great geothermal activity. We visit the following attractions:

AGRODOME FARM TOUR: An introduction to New Zealand farming, with a 45-minute tour of an authentic working farm in all-weather, all-terrain vehicles. Watch a sheep being shorn and hand-feed the animals.
Optional Upgrades:
1. Choose to go Zorb globe riding inside a giant inflatable ball instead of the Agrodome Farm Tour.
OR
2. Replace the Agrodome Farm Tour with a soak in an award-winning Polynesian spa.

LAKE ROTORUA: Drive through the foreshore park past the hundreds of ducks and swans. Then through the beautiful historic Government Gardens.

TE PUIA INSTITUTE (MAORI ARTS & CRAFTS AND WHAKAREWAREWA THERMAL RESERVE): One of Rotorua's most famous attractions. See woodcarving, weaving displays, Maori village and the thermal valley with the famous Pohutu Geyser, fumaroles, colourful silica deposits and boiling mud pools.

This tour ends in Rotorua.

Days 4 to 5 - 1 Night Accommodation in Rotorua

Travel to your accommodation in Rotorua, New Zealand, where you will be staying whilst on vacation for 1 night.

Located on the shores of Lake Rotorua your accommodation is only a short walk to the city centre, convention centre, cafes and restaurants. Here in the heartland of New Zealand's Maori culture you'll experience an enveloping warmth, proud spirit, deep sense of history and a quick humour. Picturesque cobbled and lantern lined streetways and striking Tudor architecture celebrates New Zealand's significant colonial history. Travel the region by mountain bike or participate in local bush walks.

Upgrade Available (extra cost):
Lake View Room

Optional Day Tour (Not Included) - Hangi Feast and Concert

Be entertained by the award-winning Matariki Concert group, view the raising of the Hangi and feast on traditional New Zealand food!

Experience the warmth and spirit of the natives of New Zealand through their food and culture! View the place where it all starts, the Hangi. A Hangi is the Maori method of cooking in an outdoor pit which produces rich, succulent food with a flavour quite unlike anything else. With this feast you will get to taste traditional hangi foods including breads, soups, salads, meats, vegetables, deserts and drinks. After your meal relax in the cultural centre and prepare to indulge your mind. You will be entertained and enchanted by the poi dance, the haka (war dance), and traditional songs and stick games. By the night's end you will know you have truly experienced a one in a lifetime native tradition!

Day 5 - Shuttle Transfer Rotorua Accommodation to Airport

Travel by shuttle from your vacation accommodation in Rotorua, New Zealand, to the Airport.

Please note: For airport transfers - 2 suitcases per person, extra pieces may be charged at $5.00 per piece. Surfboards, Bicycles etc - $5.00 each.

Day 5 cont - New Zealand Domestic Flight - Rotoura to Wellington

Travel within New Zealand by domestic air from Rotorua to Wellington (North Island).



Day 5 cont - Shuttle Transfer from Airport to Wellington Accommodation

Travel by shuttle from the Airport to your vacation accommodation in Wellington, New Zealand.

Please note: For airport transfers - 2 suitcases per person, extra pieces may be charged at $5.00 per piece. Surfboards, Bicycles etc - $5.00 each.

Days 5 to 7 - 2 Nights Accommodation in Wellington

Travel to your accommodation in Wellington, New Zealand, where you will be staying whilst on vacation for 2 nights.


Your 4 Star vacation accommodation is located conveniently in the heart of Wellington, New Zealand. It is a short walk from Westpac Stadium, Te Papa Museum and the waterfront. Your vacation hotel has a direct elevator to Lambton Quay via a shopping arcade. Travel to New Zealand's top wine regions, Wairarapa and Marlborough, which are only a short drive away. Or participate in adventure activities such as mountain biking, sailing, bushwalking and much more.

Photo Credit: Tourism New Zealand

Day 6 - Free Day to Explore Wellington

Wellington, voted the 'Coolest Little Capital in the World' offers the visitor heaps of cool things to do that just happen to be free.

New Zealand's capital city, Wellington, sits nestled in a natural amphitheatre around the harbour. It is easy to explore on foot and there are heaps of great things to see and do that don't cost a cent.

Visit the dynamic and interactive National Museum of NZ - Te Papa on the waterfront. Get your city bearings and some of Wellington's best views at the Mount Victoria Lookout. Ride the historic Wellington Cable Car to the Botanic Garden. Four Wellington restaurants have won NZ's Best Restaurant in the last five years. It's safe to say you'll be eating very well while in Wellington! Hear the birdsong and spot a tuatara as you walk through ZEALANDIA: The Karori Sanctuary Experience. Get an inside peek into Wellywood at The Weta Cave in Miramar. Go stargazing and check out the amazing planetarium show at Carter Observatory. Seeking hidden treasures? Many of Wellington's best night spots are tucked away for your finding, such as Motel, Library or Duke Carvell's Swan Lane Emporium. Head to Cuba Street for a slice of Bohemia, boutique shopping and some of the best coffee in town.

Photo Credit: Tourism New Zealand

Day 7 - Traveling from Wellington via ship to Picton

The 92 km journey across Cook Strait between Wellington (North Island) and Picton (South Island) takes only 3 hours and has been described as "one of the most beautiful ferry rides in the world".



The vessel offers a stunning view of the South Island's Kaikoura ranges and the opportunity to spot dolphins and sea birds.

In addition to the beautiful views the vessel offers Comfortable Passenger Lounges, Food Court, Bar, Coffee Counter, Children's Area, Nursery, Outdoor Observation Decks, Workstations, Movie Theatre and Souvenirs Shop.

Upgrade available to Kaitaki Plus available.

Day 7 - Shuttle Transfer Picton Ferry to Train Station

Travel by shuttle from the Picton Ferry Terminal to the Picton Rail Station.

Please note: For transfers - 2 suitcases per person, extra pieces may be charged at $5.00 per piece. Surfboards, Bicycles etc - $5.00 each.

Day 7 cont - Traveling from Picton via train to Christchurch

The Coastal Pacific train journey travels between the delightful port of Picton and Christchurch.

<iframe width="225" height="127" class="alignleft" src="http://www.youtube.com/embed/7q0DU6e7KEE" frameborder="0" allowfullscreen></iframe>

This 5.5 hour scenic feast is one of the world's most scenic train journeys. The Coastal Pacific travels through 22 tunnels and crosses 175 bridges, one of them being New Zealand's only road-rail bridge.
This journey is a scenic feast of New Zealand, with the Kaikoura mountain ranges on one side of your train and the rugged Pacific Ocean coastline on the other. Travel through some of New Zealand's finest horticultural and farmland areas, and see amazing wildlife such as dolphins, seals and penguins from the comfort of your train carriage.

Day 7 - Shuttle Transfer Christchurch Train Station to Accommodation

Travel by shuttle from the train depot to your vacation accommodation.

Please note: For airport transfers - 2 suitcases per person, extra pieces may be charged at $5.00 per piece. Surfboards, Bicycles etc - $5.00 each.

Days 7 to 9 - 2 Nights Accommodation in Christchurch

Travel to your accommodation in Christchurch, New Zealand, where you will be staying whilst on vacation for 2 nights.

Your 4 Star vacation accommodation in Christchurch, located on New Zealand's South Island, offers a stylish boutique hotel, just metres from Cathedral Square, major business houses, convention facilities and prime attractions. The city, also known as the "Garden City" offers many opportunities to either rest from your travel or explore the city. Consider traveling to Arthur's Pass National Park, which has an incredible diversity of flora and landscape. Experience a breathtaking journey aboard the TranzAlpine Train winding its way through New Zealand's magnificent Waimakariri Gorge.

Day 8 - Day Tour - Alpine Safari

On your vacation travel by deluxe coach across the Canterbury Plains to the Waimakariri Gorge on New Zealand's South Island.

<iframe width="225" height="127" class="alignleft" src="http://www.youtube.com/embed/a_izlKFXolI" frameborder="0" allowfullscreen></iframe>

Participate in a vacation adventure that won't be forgotten soon. Spray jackets, hats and lifejackets are issued to each passenger before boarding the jet-boat for a ride up one of New Zealand's major snow-fed rivers. Weave in and out of rock faces, white water rapids and high walled rock canyons. From the headwaters of the Waimakariri Gorge you will then travel by four wheel drive through a backcountry tour enroute to Te Kowhi Country Café (lunch). After lunch travel to Arthur's Pass. Your return journey is on the famous TranzAlpine train which is rated one of the top six train journeys in the world. Travel through numerous tunnels, viaducts, river canyons and the rainforest of the Arthur's Pass National Park.

Day 9 - Shuttle Transfer Christchurch Accommodation to Airport

Travel by shuttle from your vacation accommodation in Christchurch, New Zealand, to the Airport.

Please note: For airport transfers - 2 suitcases per person, extra pieces may be charged at $5.00 per piece. Surfboards, Bicycles etc - $5.00 each.

Day 9 cont - New Zealand Domestic Flight to Christchurch to Queenstown

Travel within New Zealand by domestic air from Christchurch to Queenstown (South Island).



Day 9 cont - Shuttle Transfer Queenstown Airport to Accommodation

Travel by shuttle from the Airport to your vacation accommodation in Queenstown, New Zealand.

Please note: For airport transfers - 2 suitcases per person, extra pieces may be charged at $5.00 per piece. Surfboards, Bicycles etc - $5.00 each.

Days 9 to 12 - 3 Nights Accommodation in Queenstown

Travel to your accommodation in Queenstown, New Zealand, where you will be staying whilst on vacation for 3 nights.

Your vacation accommodation is located near the shores of Lake Wakatipu, and only 3 minutes drive from the centre of town. The hotel features rooms most of which have spectacular views over the lake and the remarkable mountain range. Facilities include a range of hotel amenities that invite those who want to relax from their travel. These include an outdoor swimming pool, spa, sauna, gymnasium, restaurant, bar, conference rooms and a ski and boot drying room. A convenient shuttle service to the town centre is also available. Travel and explore the surroundings by visiting New Zealand's Milford Sound, Central Otago Wineries. For the nature lover, maybe enjoy a nice stroll on walking trails that meander along the lakes shores. In the evening perhaps dine whilst enjoying a Maori Concert and see powerful performances of The Haka and other songs of New Zealand custom.

Upgrade Available (extra cost):
Lake View Room

Day 9 - Day Tour - Gondola Ride

One of the first sights to captivate visitors to Queenstown is the distinctive outline of the Skyline complex high above town.


<iframe width="225" height="127" class="alignleft" src="http://www.youtube.com/embed/1iQPRGL4SfM" frameborder="0" allowfullscreen></iframe>

Located an easy 5 minute walk from central Queenstown and exclusively accessed by scenic gondola, Skyline Gondola, Restaurant & Luge is a must-see attraction during your visit to Queenstown, New Zealand. The best views in the region are found here spread out in a spectacular 220 degree panorama, with breathtaking views of Coronet Peak, The Remarkable mountain range and across Lake Wakatipu to Cecil and Walter Peaks. It's truly magnificent and awe-inspiring!

Of course there's more to do than just admire the view! Enjoy a dinner or relax in the bar in the Skyline Restaurant. Casual dining is also available during the day in the Cafe. Thrillseekers can hurtle down the winding downhill Skyline Luge - it`s the fastest fun on wheels! or maybe take in the challenge of AJ Hackett`s Ledge Bungy or Swing, or take off on a tandem parapente flight. Various walking tracks can also be accessed from Skyline, from an easy 30 minute walk to a full day hike.

Day 10 - Day Tour - Doubtful Sound

When you discover Doubtful Sound you will be struck by its silence, a silence broken only by birdsong, or maybe the rushing of a distant waterfall.

<iframe width="225" height="127" class="alignleft" src="//www.youtube.com/embed/QTgJ0qbDd-0" frameborder="0" allowfullscreen></iframe>

On boarding a luxury coach in Queenstown, travel along the shores of Lake Wakatipu and through the rolling countryside to Manapouri. Then cruise across the crystal waters of Lake Manapouri to West Arm before boarding a coach and crossing the alpine route of Wilmot Pass through some of Fiordland's most dense rainforest. On reaching Deep Cove, board a modern catamaran vessel, the Patea Explorer for a three hour cruise exploring the waterways of this serene and isolated fiord. There is plenty of time available to explore points of interest and view the spectacular alpine scenery including waterfalls, rainforest and mountains all the way out to the Tasman Sea. It is home to bottlenose dolphins and fur seals and when in season, the rare Fiordland crested penguin. An onboard nature guide with specialist knowledge of the region's history, flora and fauna provides detailed interpretation in English with a roving microphone. On the return cruise, the vessel's engines are turned off and passengers are treated to the 'sound of silence'. There is also a visit included to the Manapouri Power Station by coach before returning to Queenstown. Manapouri Power Station is an impressively large underground hydroelectric power station on the western arm of Lake Manapouri in Fiordland National Park.

Lunch options and complimentary tea and coffee are available on the vessel.

*A picnic lunch can be pre-ordered before your tour for an additional cost. There is also a selection of cafe food aboard the vessel for purchase.

Tour departs at approximately 7am and returns at approximately 8pm (seasonally adjusted).

Photo Credit: Tourism Media

Day 12 - Shuttle Transfer from Queenstown Accommodation to Airport

Travel by shuttle from your vacation accommodation in Queenstown, New Zealand, to the Airport.

Please note: For airport transfers - 2 suitcases per person, extra pieces may be charged at $5.00 per piece. Surfboards, Bicycles etc - $5.00 each.

Day 12 cont - New Zealand Domestic Flight - Queenstown to Auckland

Travel within New Zealand by domestic air from Queenstown to Auckland (North Island).



Day 12 cont - International Flight - Auckland to Nadi

International flight from Auckland to Nadi, Fiji

Your International flight will take you to Nadi, Fiji direct from Auckland. Enjoy the hospitality of Qantas

Day 12 - Shuttle Transfer Fiji Airport to Accommodation

Travel from the airport to your vacation accommodation.



Days 12 to 16 - 4 Nights Accommodation in Nadi

Begin your rest and relaxation on the Island of Fiji. Your accommodation is right on the beach. Only a short distance from the airport so you will not waste precious time.

<iframe width="225" height="127" class="alignleft" src="http://www.youtube.com/embed/8MqoXI3y_oQ" frameborder="0" allowfullscreen></iframe>

The five star vacation resort is set along absolute beachfront, adjacent to the world class Denarau Golf and Racquet Club and features 296 rooms, each with private balcony overlooking the ocean. Features include a private beach, wedding chapel, swimming pool, international health spa and the most extensive conference facilities in Fiji. A marina and cultural temples are located close by.

Days 13 to 15 - Free Days to Explore Fiji

Enjoy the many attractions Fiji has to offer.

Consider taking a day tour on your free day(s) in Nadi.

Navua River Village Tour: Experience the thrills of fast-flowing shallow rapids along the way. Visit a village for Kava ceremony and Fijian lunch. Swim in clear, fresh mountain water and visit specialty shops, before returning down the river.

Rafting on the Navua River: Upon arrival in Navua town board a water taxi to the upper reaches of the Navua River, the starting point of your rafting adventure. Relax on the river side and enjoy a picnic lunch (BBQ) and a swim. Disembark on your raft through tropical jungle forest while water cascades through a wonderland of sights abounding in birdlife. Experience exhilarating rapids and the beautiful waterfalls downstream the landing point.

Flowers in the Gardens of the Sleeping Giant: Depart your Fijian accommodation and venture into Nadi's scenic heartland through the beautiful Sabeto Valley to the Gardens of the Sleeping Giant, housing the largest and most varied orchid collection in Fiji for this half day tour.
Then to Viseisei Village, the legendary landing site of the first Fijians, where you will be shown through the village and handicraft displays. The Vuda Lookout offers a 360 degree bird's eye view of the West's mountain ranges, Nadi Bay, and the beautiful Yasawa Group of Islands. Relax in a Fijian Bure and enjoy a tropical fruit juice and seasonal fruits from the orchard.


Day 16 - Shuttle Transfer Fiji Accommodation to Airport

Travel from your vacation accommodation to the airport.



Day 16 - International Flight - Nadi to Los Angeles

Depart Fiji from the International Airport and fly to Los Angeles. Note: You will be traveling back across the International Date Line so you will gain a day. You actually arrive in the USA on the same day you leave Fiji.

Air Pacific appreciates the joy of music so they have put together a choice of 8 audio channels ranging from top 40 hits to classical pieces and of course a taste of Hindi Hits. There is also a dedicated channel for children.

Your flight home will give you the opportunity to reflect on your vacation. Please tell your friends if you have enjoyed the experience and direct them to "ABOUT AUSTRALIA " for information via our website at www.aboutaustralia.com
Print | More Information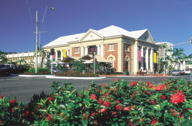 Click the following link to request a booking. Upon receipt of your request we'll prepare a Firm Quote for your travel dates:
[
Request a Firm Quote
]